We are an Asturian family business located in Gijón.
Our origins date back to 1972 when the company founder Maximino Canteli had an idea which for many at that time was "totally mad", to commit to tourism in a wholly industrial city.
And we can say with pride that fifty years later the third generation of the Canteli family is still committed to that initial madness of bringing the sea closer to the general public at prices which are affordable to everyone.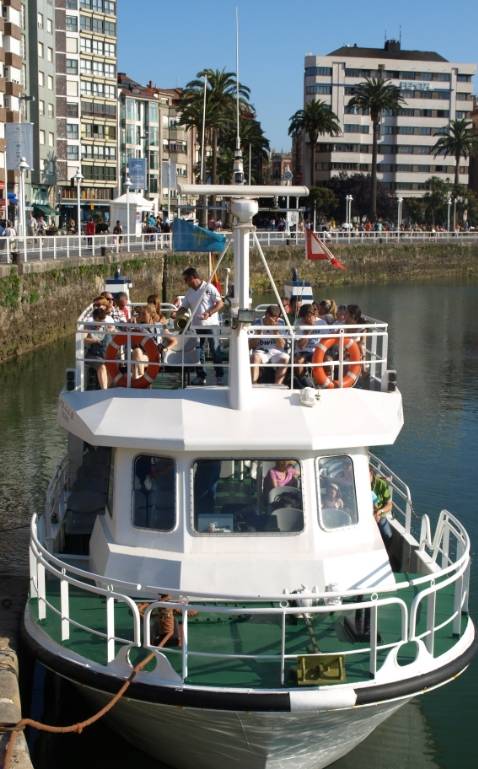 At Lanchas de pasaje Canteli we have qualified helmsmen with great experience in operating all kinds of vessels. Professionals endowed with great knowledge about the different boats offered in our activities and about the area where we navigate during the latter.
What's more, our vessels are fitted with full safety guarantees and we make sure that everyone on board is 100% safe, handing out lifejackets as well as other equipment where necessary. At Lanchas de pasaje Canteli we take great care in offering activities in which we always strive for your safety.
It could be said that our story is the story of one of the many family business going to make up the economic fabric of this country.
Small companies in which the family shares the same project and commits to it, as this has to serve as a way of life for the group. Companies which came about thanks to the enterprising attitude of the founder, in our case our parents: Maxi and Alva, who came up with a dream and never gave up in their commitment until they made it come true. Companies that are not afraid of sacrifice, effort and hard work, the vital ingredients in order to move ahead. Companies that must simultaneously combine tradition and innovation, the former because it means picking up the legacy of previous generations as well as a distinguishing sign of identity and the latter because it is an absolute necessity in order survive in the present. Companies that put down roots in the territory which bore witness to their emergence since their origins and which commit to it, in our case Asturias. Companies which wish to stand out over time and remain from one generation to the next, until this wish for continuity disappears.
And this is how in the 1970's, when Gijón was a prime industrial city in northern Spain, our fathers committed to a project which did not seem to have any future at that time, offering boat trips around the bay of Gijón at cut-rate prices.
The idea met two needs. The first, to make it into a way of life. The second, to bring this passion for the sea, particularly felt by our father, to a wider audience.
Not only was it not madness, it was actually successful! Canteli's boats soon became a byword for summers in Gijón. There are very few citizens in Gijón who have not gone for a ride in our vessels and many are the tourists who have taken home with them, emblazoned on their retinas, the view from the sea of our wonderful San Lorenzo beach.
And after fifty years on course, we realise that a new challenge needs to be taken on, offering a pioneering activity not only in the city, but also throughout the Cantabrian coast. We have committed to making available to our customers an experience packed with speed, emotion and adrenalin on a latest-generation vessel, especially designed for this type of trips out into the sea.
And that's our story. We're inviting you to get to know us and help us keep writing this story… ours!