Boat trips around
the
bay of Gijón
30 minutes
Adults and children aged over 7 years old
7€
Children aged under 7 years old.
6€
Would you like to get to know the Gijón coast better? Get on board our vessels 'Villa de Jovellanos' or 'Cimavilla I' and let us show you the importance of our marine environment, taking a trip around the bay.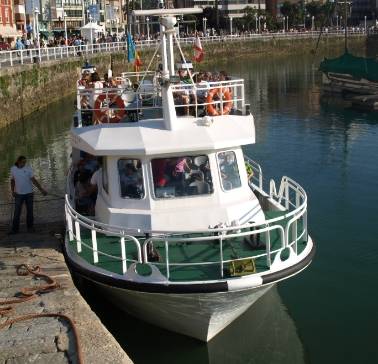 ¡Ven a disfrutar con nosotros de un agradable paseo en lancha por la bahía de Gijón!.
Aprecia la ciudad desde el mar en un recorrido de 30 minutos aproximadamente, en el que descubrirás la excepcional vista del muelle local o Puerto Deportivo, coronado por el barrio de Cimavilla; el cerro de Santa Catalina, en el que se erige la famosa escultura de Chillida "Elogio del Horizonte" y la bahía de Gijón con la emblemática playa de San Lorenzo. Ya en el recorrido de vuelta observarás a lo lejos el puerto de El Musel y las playas de la parte occidental de la ciudad.
We'll tell you all the
details
Boat trips 30 minutes
From 8 July to 11 September we offer boat trips around the bay of Gijón lasting around 30 minutes and for all audiences. It's not a guided tour, but rather a calming trip on which you can enjoy the wonderful impression that the city makes from the sea.

During the course of trip, you'll enjoy a wonderful view of the local dock, a panoramic view of Cimavilla, the fishing district, the mount of Santa Catalina, hosting the famous sculpture of Chillida "Elogio del Horizonte" and finally San Lorenzo beach.
The vessel will return to the same spot where it departed from.
There are
special prices for groups with a minimum of 20 people
, provided that the trip is planned 24 hours in advance.
Ask us with no obligation
Adults and children aged over 7 years old
7€
Children aged under 7 years old.
6€
Buy your
tickets online

and enjoy this experience
Monday to Friday
Saturdays and Sundays
16:00-20:00
16:00-20:00
Where

shall we wait for you?
The point of departure for the trip is the 'La Barquera' ramp of Gijón Marina (near the Revillagigedo Palace).
Our ticket office is situated just a few metres away from the town hall square, in said marina. You can't miss it as there are several references around it: it is located in the harbour promenade, near the Revillagigedo Palace, alongside the famous Cider Tree sculpture and opposite the Pelayo statue. Right opposite the ticket office is the 'La Barquera' ramp, the boarding and landing point for the boats.
How to get there?
Go to the city Marina near Revillagigedo Palace. This means going right into the city centre and so if you're coming by car, it's best to leave it in a car park and walk there.
Look here to find the environmental badge you need to park in Gijón.
Any queries?
For any clarification, send us an e-mail or call us on:
Don't wait any longer, book now
Do you need
further information

about the boat trips activity?