Fast boat -
Jet Boat in Gijón,

100 % adrenalin
Would you like to get to know the Gijón coast better? Get on board our vessels 'Villa de Jovellanos' or 'Cimavilla I' and let us show you the importance of our marine environment, taking a trip around the bay.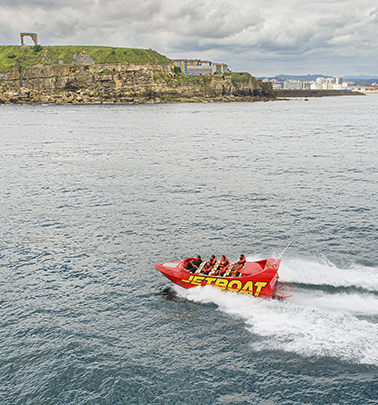 Esta embarcación Jet boat 700 Moggaro ha sido especialmente concebida para el disfrute en el mar.
Su diseño permite hacer auténticas acrobacias en el agua: saltar las olas a gran velocidad, frenar en seco, describir trompos, dar giros rápidos de 180º-360º e incluso hacer pequeñas inmersiones, que suponen un auténtico baño de espuma en el mar.
Todo ello garantizando siempre la seguridad de los usuarios.
¡¡¡¡Atrévete, súbete al Jet boat y disfruta de la que seguro se convertirá en la aventura más trepidante del verano.!!!
¡Anímate y ven a liberar adrenalina con nosotros!.
We'll tell you all the
details
Jet Boat experience in Gijón 20 minutes
The activity consists of a 20-minute boat trip in a vessel especially designed to enjoy speed, water stunts, jumping the waves, emergency stops, spins, turns and even small water immersions.
It is an experience which will pump up your adrenalin and produce powerful emotions. All whilst guaranteeing maximum safety.
Buy your
tickets online

and enjoy this experience
Mornings
Afternoons
10:00-10:20
16:00-16:20
10:40-11:00
16:40-17:00
11:20-11:40
17:20-17:40
12:00-12:20
18:00-18:20
12:40-13:00
18:40-19:00
13.20-13:40
19:20-19:40
You must turn up at our facilities 20 minutes before the time allocated for carrying out the activity.
¿What does your ticket
include

?
We have our own installations where you can get changed or have a shower after carrying out the activity so that you will have an unforgettable adventure.
At our facilities' reception we'll provide you with a lifejacket which you have to wear and, if you want one, a neoprene suit whose use is optional. There are also some lockers available for users to leave their belongings whilst they are carrying out the activity.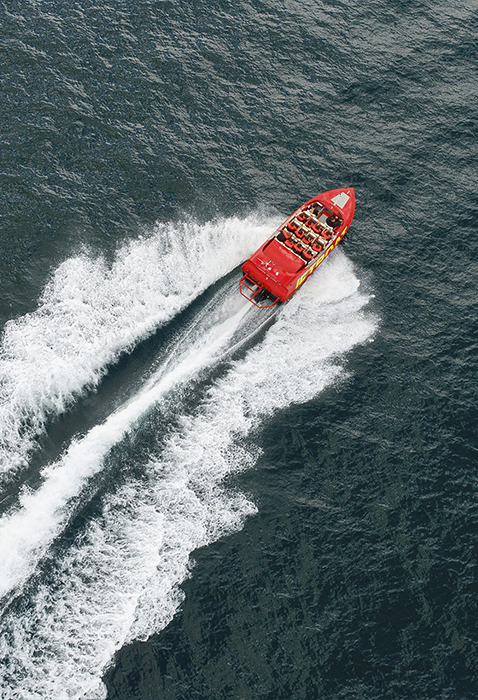 Because a
picture

is worth a thousand words
Where

shall we wait for you?
Muelle de la Osa, s/n – Puerto del Musel, 33212, Gijón.
Just a few metres away from the centre of Gijón, with easy access by motorway from other nearby cities.
From the A-66, use the 2 right-hand lanes to take exit 384 to GJ-81 in the direction of AS-19/Gijón City Centre/N-641/El Musel/Port. Use the right-hand lane to take the Avda. Príncipe de Asturias ramp in the direction of N-641/El Musel. At the roundabout, take the second exit in the direction of Polígono Puerto El Musel.
Look here to find the environmental badge you need to park in Gijón.
Any queries?
For any clarification, send us an e-mail or call us on:
A little bit more about the
vessel
Hull length: 6.92 m. Total length with hydrojet: 7.91 m. Breadth: 2.49 m.
PApproved trip. Valid for a maximum of 12 passengers. The boat is classified as a Wave Runner. YANMAR INBOARD DIESEL ENGINE 6LY2AM-STP 440 HP @3.300 RPM. Propulsion HAMILTON HIDROJET H274. Speeds obtained: maximum speed 43 knots in trials with 3 people; maximum speed of 38/39 knots with 12+1 passengers. 1 x 310 litre three tanks. Consumption: 45 litres/hour.
No other Jet Boat offers the Moggaro 700 WJ performance: a spectacular Submarine-Power Brake which allows passengers to be submerged in total safety, a unique self-bailing deck on the world market and a navigational experience which is sheer adrenalin. Navigating with waves at high speed, doing turns, 360º spins, sliding… A vessel which will infect you with a passion for powerful emotions.
Don't wait any longer, book now
Do you need
further information

about Jet Boat activity?